FEATURED ARTISTS
OUR COMMUNITY
GETTING HERE
IN THE NEWS
RESOURCES
Follow us on FaceBook

The Coal Shed Music Festival Returns for 2022
Over the years the Coal Shed Music Festival has faced many challenges, not the least of which has been the Covid 19 virus, cancelling the festival in 2020 and 2021. Well, this summer we are back! Mark your calendars for the last three weekends of August, 2022. This summer the waterfront will see performances once again on the following dates: August 12-14, August 19-21, and
August 26-28.

For sixteen years Phil DeMille has been the face of the Coal Shed Music Festival. Together with his wife Janet,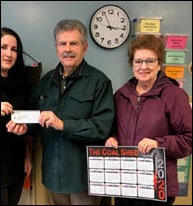 they have grown the festival from a one-weekend local event to a three-weekend multi-stage signature summer showcase of internationally recognized talent. Year after year, audiences at the Yarmouth waterfront have been thrilled and entertained by artists from a wide range of music genres. And each and every year the playbill has grown with more and more talented acts – hundreds of musicians. There has been music for children, youth talent shows, kitchen parties, song writing workshops, and hours and hours of fabulous concert performances.

All that talent over all those years and all for free! Year after year, if you found yourself on the Yarmouth waterfront during those festival weekends, you got to enjoy it all for free. If you had the means to contribute, all that was asked of you was a small contribution to the food bank or the school breakfast program. That's what the Coal Shed Music Festival is really about. Over the years Phil and Janet have raised thousands of dollars for these worthy causes. The decision to cancel the last couple of years was not an easy decision but a necessary one. After all, we have been in the midst of a pandemic. Hopefully, in 2022 we can celebrate once again with live music and hope and generosity.